(17th-Nov-20, 12:50 PM)

JasonB Wrote: If you have boards of 1200mm, and you set the track 300mm in from the edge to the centre of the track, you end up with some strangely compelling and symmetrical geometry, whereby each board is quartered by the track, and the same radius corner can be used throughout.

Not that it's necessary or even desirable, I just found it interesting, and it makes the maths very simple.




One thing I wondered is whether it would be possible to move the desk to accommodate an extra board, like this....



The reason I ask is that your current plan shows an area of 3.6m x 2.4m in the centre, where it will probably be difficult to retrieve deslotted cars, or gain access for track and scenery work. If you were to cut that central section down to 1.2m you might find it easier, and perhaps you could add an extra section at the desk end.
Short answer: I can use all the space 5.45m x 6m, provided there is somewhere room for the desk. The green space is an indication.
Today I also continued drawing some plates and use them as for a track design. For me it is a process, this is not a serious design that I am considering.
Click the image for bigger view.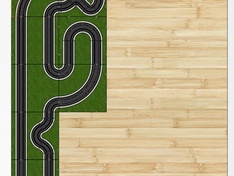 I wonder if I should not go for two entrance options, as with J-Track. This allows to vary more with the plates. Maybe I want a little too much with a modular design. Today I even thought for a moment to just go for a fixed track. That was quickly gone because modular is really preferred. As I wrote above, all part of the process.