---
HRW Championship GT3 Proxy 2022 Event Potential Entry -
BourneAgainRacer
- 7th-Jan-21
In the search for some certainty in these uncertain times, I have decided to build a car and try and qualify for the HRW Championship GT3 Proxy event in 2022. Think of this idea as a sort of plucky Brit up against the best North America and Australia can offer; I'm imagining myself as a sort of slot car Guy Martin, or modern day Lord Hesketh, but it could easily end up a being more Tim Henman. 
And lets get this straight from the start, this is not going to be some "how to" technical thread on exemplar slot car race preparation. As my mum used to say "just do your best" and that's what I'm going to try to do, and who knows, it might
just
be enough to get me into the event! I might be doing it for fun, but I will be taking it very seriously.
So here's the thing...looking round for a proxy event to enter as a hands on way of learning more about slot car preparation, I came across this on the Home Racing World forum: -
The HRW 2021 Proxy GT3 Race Series
It's looks like a rather competitive series, but the great thing is, there is a noble sense of transparency and knowledge sharing amongst the current entrants. So as a hopeful entrant in next years event, there is a very detailed database of car set up information available, along with a raft of performance data from each of the rounds. So in my mind, this provides me with what I need for a solid starting point and it will hopefully get me started in roughly the right direction (if not necessarily at full speed to start with).
The rules are reasonably straight forward...a recognisable GT3 body on the outside from one of the main slot car manufacturers, but almost anything goes on the inside with regards to chassis and drivetrain.
Eligible & Approved Cars
The Rules
And just to give myself half a chance of success, I have accepted a generous offer of technical advice on my car build from one of the most helpful and knowledgeable slot car designer, builder and racer in the hobby. To save his reputation if it all goes wrong because of my inability to listen to what he is telling me, I'm not going to use his real name, but for reference purposes I'm going to refer to him as 'Harvey'. 
And to eliminate the small fact that I don't have easy access to any routed timber tracks, and also that I have never driven a car on one, I have accepted the services of a similarly very experienced slot car racer who will act as my test driver and put any car I send him through it's paces on his routed timber track and offer any feedback during the development stage. Again, to protect his identity, I'm going to refer to him as 'James'.
And I should mention that both of them are currently competing in the 2021 series, and doing rather well in it.
So updates to follow as I take each step along to way to the pre-qualification event at the end of 2021. And I know the organisers would be very interested in other entrants from Europe as they very much regard the series as open to all comers.
---
RE: HRW Championship GT3 Proxy 2022 Event Potential Entry -
JasonB
- 7th-Jan-21
Good on you, get stuck in.
---
RE: HRW Championship GT3 Proxy 2022 Event Potential Entry -
Mazda
- 7th-Jan-21
Just go for it! The fun is in the taking part
. Good luck
---
RE: HRW Championship GT3 Proxy 2022 Event Potential Entry -
mickey thumbs
- 8th-Jan-21
Looking forward to following this thread. Maybe it will help me get up the courage to enter a proxy series.
---
RE: HRW Championship GT3 Proxy 2022 Event Potential Entry -
BourneAgainRacer
- 8th-Jan-21
So, working through the first set of technical notes from 'Harvey'...
I need to look for a rigid motor pod, and an anglewinder for weight distribution reasons. This is the RT3 AW pod from Scaleauto that I will be using: -
[attachment=11330]
From what I remember from a previous exercise, it's 2.5g heavier than a Slot.it equivalent, but weight saving is not the main driver here. The aim is for zero flex between the motor and the axle so that gear mesh is consistent regardless of what the motor is being told to do, or what the wheels are doing at the time, so this is what I am getting for my extra grams; solid plastic where it's needed between motor and axle: -
 [attachment=11331]
(and there is nothing like a photo to show you it needs a bit of a clean up to remove manufacturing burrs to ensure it will move freely when installed in the chassis!)
And the next step after the rub down will be to modify the pod so I can install two of these little beauties...push-fit olite bushings.
[attachment=11332]
---
RE: HRW Championship GT3 Proxy 2022 Event Potential Entry -
F1Fan
- 8th-Jan-21
Thanks for the kind comments on the GT3 proxy, I started this event (originally for Group 5 cars on SCI) about 6? years ago with the help of CGYRacer (Rob) and it has gone from strength to strength. In fact we're currently getting too many entrants and we have to run a pre-qualification round to determine the 27 cars that will race in the 10 round series. Rob took over the Race Director reigns last year as I am launching a new proxy called the World Championship Proxy Series.  Both these series, as well as the Group 5 series run under the "Championship Proxy Events" banner on HRW.
We have entries from Canada, USA, AUS and JPN in the series as we also run a region championship within the series. Canada won last year, but we have had past champions from Canada, AUS and USA.
We are really exited to have a entrant from the "home of motorsport" (to steal a phrase from Donnington Raceway) and look forward to you making it into the field.
Good luck!
Chris
PS: i notice the picture is sideways, I will fix it when I have a bit more time and figure out what I did wrong
---
RE: HRW Championship GT3 Proxy 2022 Event Potential Entry -
F1Fan
- 9th-Jan-21
Although I have thousands of posts between SCI and HRW, I am new to posting on this forum, so apologies for messing up the picture above. I also did not realize there was a time limit on editing my own post, so here is the picture again the right side up. Last year's top 3 (CGYRacer, F1Fan and ChrisWalker) followed by the 24 cars. Canada took the Team Championship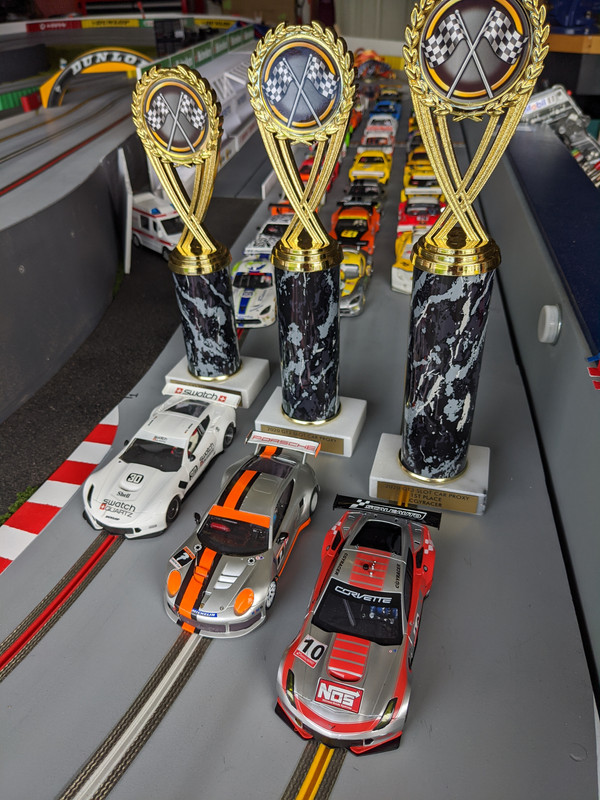 ---
RE: HRW Championship GT3 Proxy 2022 Event Potential Entry -
BourneAgainRacer
- 9th-Jan-21
Welcome Chris
Without withing to heap even more pressure on myself, 10 miles east of my house is this sign...
[attachment=11350]
If I recall it right, Mr Dunlop invented the racing tyre, and then had to invent a sport to show them off in.
---
RE: HRW Championship GT3 Proxy 2022 Event Potential Entry -
F1Fan
- 10th-Jan-21
If I can offer you one bit of advice (FWIW my credentials for this particular proxy includes one series win and multiple 2nd places) divide your tuning time efforts as follows....80% tyre preparation and 20% everything else !
PS: it is taking a bit of time to get use to not being able to edit my post.....but my original post should have read...EXCITED to have you, not exited...(hope it is not a bad omen!!)
---
RE: HRW Championship GT3 Proxy 2022 Event Potential Entry -
BourneAgainRacer
- 10th-Jan-21
I have read all the proxy threads numerous times and know them all off by heart!
Tyres tyres tyres (or Tires, tires, tires)
I have cunning plan...
---